Always wanted a helping hand with all your culinary adventures? Perhaps, we've found the perfect companion that will lend you a hand whenever in need. Zojirushi CV-DCC40 Hybrid Water Boiler is pretty much similar to the Zojirushi CV-DSC40 VE that we reviewed earlier in another review. It is a hybrid water boiler and warmer made with advanced Zojirushi technology.
Let us take a look at its specs, pros, and cons and reach a verdict whether this water boiler is worth it or not.
Zojirushi CV-DCC40 Hybrid Water Boiler Review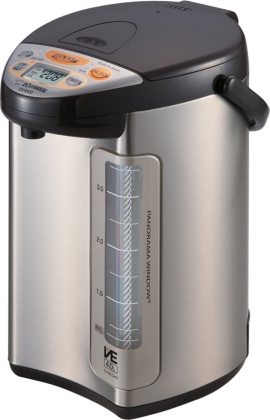 Vacuum-Electric Hybrid Technology
Being a prominent figure in the vacuum insulation technology for years, Zojirushi CV-DCC40 comes with a Vacuum-Electric Hybrid Technology. This VE technology keeps the water hot without using any energy and that too for a long time. So you'll definitely won't notice any increase in your energy bill.
Energy Efficient
Talking about energy, this water boiler comes with advanced energy saving functions. A lot of water boiler and warmer available in the market make use of 1500 watts of energy which is A LOT. Keeping an appliance that uses such an amount of energy for 24/7 may lead to an increase of more than a 100 bucks in your monthly electricity bill.
However, the Zojirushi water boiler uses just 840 watts, which is amazingly lower than the other water boilers in the market. So in a long run, this well-engineered machine will save you some serious bucks.
4 Keep Warm Temperatures
While Zojirushi CV-DSC40 VE offered 3 keep-warm temperatures to preserve your hot water at. This one keeps the water hot at 4 different temperatures namely, 160°F, 175°F, 195°F, 208°F.
Also, unlike the former one, this machine reaches the specified temperatures directly without reaching a certain temperature and then falling back.
With these amazing temperature settings, you can easily prepare a lot of great dishes, teas, and coffees. Certain dishes require you to use water at a certain temperature like instant noodles, herbal teas, black coffees of different grounds etc. So from now on, you'll always know what kind of temperature you're using to prepare any dish. And in my experience, brewing coffee at a certain temperature definitely makes it taste deliciously better!
Temperature Control System
The temperature control system has been micro computerised so that you always get the perfect hot water all the time, not half a degree more or less.
Easy to Clean
The machine, overall, is fairly easy to clean. The lid at the top can be opened up and you can follow further cleaning without much hassle.
Timer
There is a timer setting in Zojirushi CV-DCC40 that allows you to keep the water hot at a certain temperature. You can keep the water hot for 6 to 10 hours straight.
ETL Listed
This Zojirushi Hybrid water boiler is ETL listed which means it is tested for safety. This adds to the reliability of the machine.
Interchangeable Melody Signal
There is an interchangeable melody built-in in the machine. Whenever your water reaches the temperature that you had specified, it will let you know by playing the melody which you can change to another melody, or a beep, or nothing at all.
Made in Japan
Zojirushi technologies are advanced-engineered in Japan and trusted worldwide!
Steam-reduce Feature
There is a steam-reduce feature in Zojirushi CV-DCC40 which prevents an excessive amount of steam from escaping the water boiler. This is done by turning the machine off before it reaches boiling temperature. This functionality saves a lot of the water from getting escaped and saves energy too.
Large Capacity
The Zojirushi Water Boiler comes with a capacity of whopping 4-litres, which is more than enough for a small family and enough for a large family or office. With such great capacity, you'll have enough water to boil your veggies, make a sou or dinner and a hot beverage altogether.
Pros
Comes with 4 keep control temperatures.
Keeps water hot for 6 to 10 hours based on the timer provided.
Uses its amazing Vacuum-Electric Hybrid Technology to keep the water hot without any electricity.
Play and interchangeable melody on completion of the task.
It is ETL Listed which shows its reliability and safety.
Made in Japan with best in class technology.
Reduces steam to keep the heat and water quantity intact.
Uses only 8600 watts of energy, which is pretty low compared to most of the products on the market.
Cons
Timer has fixed options.
Cost is pretty steep.
Does not come with a nightlight.
The EndNote
Zojirushi appliances are one of the most reliable when it comes to kitchen appliances. If you want your water boiler to have the best features and top-notch engineering, opt only and only for Zojirushi CV-DCC40 Hybrid Water Boiler. Yes, it may seem to have a steep price tag. But this is the kind of product that lasts you for years and becomes your family member!
If you have any query regarding the product, let us know. We'll make sure to solve them all!
Cheers!