So what is up with the Hybrid Water Boilers in the market? Hybrid water boilers are the unconventional water boilers that use electric power to boil and keep your water hot for a long time. Zojirushi CV-DSC40 VE is one of those much-talked-about hybrid water boilers.
Zojirushi CV-DSC40 VE Review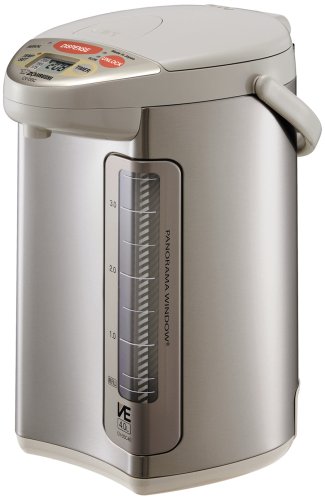 About Zojirushi
Zojirushi has been in the industry for a long time. They are great when it comes to appliances with vacuum insulated technology. Their vacuum insulated tumblers stand out among the conventional products. Their products are pretty reliable, premium but sometimes a little bit high on the price tag.
Features of Zojirushi CV-DSC40 VE
Zojirushi Hybrid Water Boiler comes with some exciting features. Let us take a look at what these are.
BPA-free with Nonstick Material
First of all, looking at the build quality of the water boiler, it is entirely made from BPA-free materials. In the process, the water does not get in touch with any plastic material, hence, it is totally safe for your health.
The interior of the Zojirushi hybrid water boiler is made from non-stick material as well.
Magnetic Power Cord
Another addition to the build quality of this Zojirushi water boiler is the magnetic power cord. Power cords often get in the way and get tangled, which eventually damages the functionality. But with magnetic power cord forget about any dysfunctionality at all. These smart cables get detached themselves as soon as they are tangled which saves the power inlet and the cord itself from getting damaged.
However, one problem that can arise due to the magnetic cord is that they may get detached during the process which would lead to disturbance in between.
Timer
Have you ever thought of getting high efficiency hot water boiler that does its work when specified without you having to follow the same procedure every day? Well, it is possible now. There is a timer in Zojirushi CV-DSC40 VE that allows the machine to auto shutoff at a specified time and also wakes it up at the time you need.
This timer feature is also great if you want the machine to keep the water hot just for a specific amount of time. You can choose to keep the water hot for 6 to 8 hours and the machine will automatically turn off functioning in order to save electricity.
Auto Shutoff if Empty
Zojirushi CV-DSC40 VE is smart and it monitors the amount of water contained in the machine. If the water reaches the bottom or is empty, it will automatically shut off to prevent any accidents and keep the machine safe.
Insulated Body
This Zojirushi Hybrid Water Boiler comes with an insulated body. Which of course, does not get in touch with water at all. It is just to keep you from being burned because of the boiling hot temperature inside the machine. So no matter how hot the temperature is inside, your hand won't feel the heat, at all.
Two-step Water Dispense
Often, it may happen that you press the switch by mistake and the hot water starts running. This can be very dangerous if you have a small child in your house. To prevent such accidents, the Zojirushi Water Boiler comes with a two-button water dispense.
First, you have to press the unlock button, located at the top of the operating interface, which unlocks the mechanism that allows dispensing and then, you can press dispense button to pour out hot boiling water.
Keeps Water Hot at Said Temperature
The machine allows you to heat the water at certain temperatures inclusive of 175, 195, and 208 degrees. First, the machine reaches a certain temperature and then falls down to the temperature you've specified.
Instant Noodles, Tea, Anything!
With this multi-functionality hybrid water boiler and warmer, you can prepare a variety of dishes in an instant. If you want to prepare instant noodles, tea, coffee, or just simply want to boil some vegetables, Zojirushi CV-DSC40 VE is your loyal partner in the kitchen.
Made for Water Only
This machine only functions with water. Pouring any other kind of liquid may lead the machine to lose its functionality.
Large Capacity
Zojirushi has a large capacity of 4-liters which is pretty impressive and great for big families, offices, or parties.
Pros
Interior made from stainless steel. Exterior is BPA-free which prevents your hands from getting burned.
Large tank capacity of 4-litres.
Two-step water dispenses to prevent accidents.
Auto shut-off when the tank is empty.
Timer allows you to keep the water hot for a certain amount of time and then turn the machine off.
Supports 3 temperatures to keep the water at.
The build is very sturdy.
The power cord comes with a magnetic attachment to prevent any accidents and damages due to tangling.
Comes with a 2-year warranty.
Cons
Pretty costly.
The exterior is not so elegant.
Our Verdict
Zojirushi is a pretty decent brand and their products are worth money you spend. As you may have already noted that this machine comes with an enormous price tag, understand that Zojirushi CV-DSC40 VE is one of the finest hybrid water boiler and warmer that will help you with all kinds of culinary uses. So concluding, we loved this product and one should definitely go for it.
If you have any query regarding the product, let us know by commenting below; we'll surely get back to you.
Cheers!