Do you need soft water to be accessible wherever you go? The solution is with us. You need to buy a portable softener system to meet this need. In this we have discussed Best Portable Water Softener Reviews – Top Picks in detail. There are many softener systems available which are portable, but choosing the right one remains the crucial point.
Among all the listed systems, Watts RV PRO-1000 Water Softener is the Top Recommended unit. This product is also known by the model number M7002. Compact in size, and also comes with a good warranty on it.
The second recommendation is the DI-120 CR Spotless Water System. This unit helps in providing de-ionized water, which can be used for rinsing purpose. This ranks among the best residential water system solutions.
—>

Our Winners

: Best Portable Water Softener Reviews
People who travel a lot, on remote vehicles will be in constant need of soft water. And also if you are on a camping place, in which way do you think, you can get soft water? During such time, only the Best Portable Water Softener system comes for rescue.
So, getting started with the reviews:
#1 Recommendation: Watts RV PRO-1000 OR M7002 Portable Water Softener
The softener has a sleek design which makes it compact in shape. The dimension of the machine is 7 x 21 inches. This machine takes some amount of area but still it has moderate volume only. Watts RV PRO-1000 has a capacity of handling 10100 grains in water.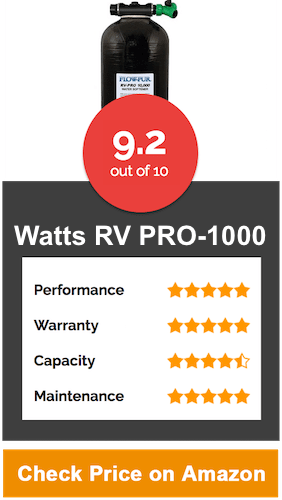 Watts RV Pro-1000 is known for its portability. This best portable water softener is very easy to install also. We don't need any extra salt to use this water softener. The regular salt will work fine with this.
Watts RV Pro-1000 is built in small size, for the portability purpose. But this little size makes it unfit for large families. Also, this machine has no hose fitting in it making the rotation absent in this. The machine has manual regeneration feature in this.
Pros
The unit has got a compact design, thus make it portable in nature
Installation method is found to be easy for this water softener
You can use standard salt for the process of regeneration in this
Cons
The size of the unit is small, thus less water storage is possible
Here the rotation feature is not available, thus handling may be a bit difficult
The process of regeneration needs to be performed manually
Also Read: Best Water Softener – Our Top Picks of 2019!
Watts RV PRO-1000 is the best portable water softener among all the options available. It has received many good reviews too. Many users have also mentioned that the build up caused by the hard water was also reduced by a significant amount.
#2 On The Go OTG4-StdSoft 8,000 Water Softener
This system is easy to carry softener which has got a large opening for salt input task. On The Go OTG4-StdSoft has got simple regeneration process along with this, it is compact in looks too which makes it light in mass too.
It performs all the task done by a softener like removing hard minerals, rust, scale buildups and also other taste-odor issues. This system performs regeneration within 16 minutes using the common table salt. It is also suitable for low-pressure water too.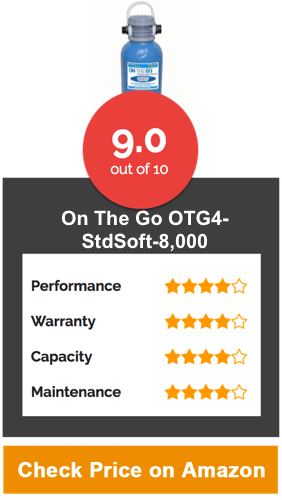 The dimension of the system is given by 22 x 6.75 in inches. This system is capable of handling 8000 grains for the treatment. This machine has also got a 360-degree swivel joint which helps for handling the system in a more comfortable way.
Also read other reviews for: Fleck Water Softener
This system does not require any electricity to run this. The system does many tasks efficiently like softening, rust removal, odor if present. The size of the system is a compact one thus it can be installed anywhere with ease. The device works equally well with all kinds of water pressure.
Pros
This unit does not require much power for running it
You will find good water pressure after the unit is set up
The size of the unit is found to be small, and a compact one
Performance of the unit is quite appreciable
Cons
As the size of the unit is small, the capacity decreases for storage purpose
With an excellent rating on Amazon, this product is definitely a beast out of all. Highly recommended if you are searching for the best system for water softening.
Also, check out our similar articles: Nuvo H2O reviews
#3 DI-120 CR Spotless Portable Water Softener
This best portable water softener system is used for washing vehicles. Now, it depends on the hardness level of the water; it can produce 80-1010 gallons of water, from just one resin cartridge used. There is a facility of digital meter reading, which tells you about the quality of water the machine is producing.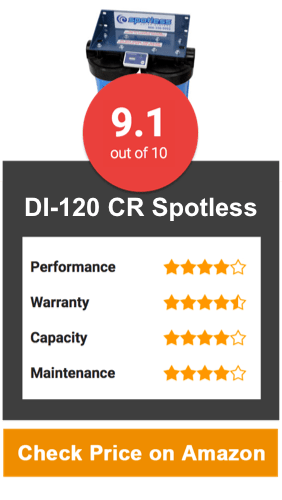 DI-120 CR Spotless Water System serves its purpose very efficiently. It is used for car washing mainly, so providing the best water for that.  This best portable water softener uses a de-ionizing method; this helps in getting clear water that has no minerals in it. This is small in size so easily compact in nature. The easily affordable machine for you.
One issue found in this is the fast replacement of the resins in this. This limitation costs a lot of bucks.
Pros
The performance of the system is found to be pretty good in this
De-ionizing method is adopted here, which provides the user with water free of any minerals
The cost of the unit is found to be an affordable one
Size is small, thus it makes the unit a compact and portable in use
Cons
The resin replacement is found to be a costly task, and this remains the limitation
To sum it up, this machine works greatly for you. This limitation can be reduced if you use this best portable water softener, regularly without any gaps. Many of the users have been a thumbs up to this machine. So go and get it!
#4 ABC Water Equipment Water Softener
If we are checking out the water quality that is made available to us during camping, then you will come to know its actual condition of that water, which again is not suitable for your softener machine. ABC Water Equipment was a capacity of handling 12900 grains present in the water.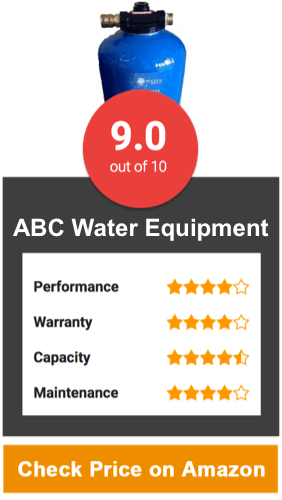 This best portable water softener is large compared to other systems available. Therefore, it can store more amount of water. There is a water testing mechanism with this softener machine which tests the quality of the resulting water. This system comes at a reasonable price. The hose settings, in this best portable water softener, is made of brass, which makes it easier to handle and flexible to adjust.
This system does not come pre-charged. Therefore, you need to charge this best portable water softener before starting to use it.
Check out: Best GE Water Softener Reviews | Complete Guide
Pros
This portable water softener includes a testing tool, which shows the quality of the water produced
Method adopted here is simple, and it can be easily run
You can get this unit at an affordable rate too
The unit is portable in nature, thus it can be moved easily from one place to another
Cons
This unit does not come in the charged form. So recharge this product, and start using
The bottom line remains that ABC Water Equipment water softener is a reliable choice for all those who want large-in-size softener systems that are portable in nature. Make sure that you charge it completely before using it.
#5 SoftSpot Nomad Portable 400 Water Softener
The next efficient and best portable water softener system is this one. In this, not like Watts Pro RV, this machine uses water softener salt for the purpose. There is one feature called Real Water Softening Technology in this; this concept lets the device regenerate in just 16 minutes. This machine can produce an approx of 2500 gallons of water.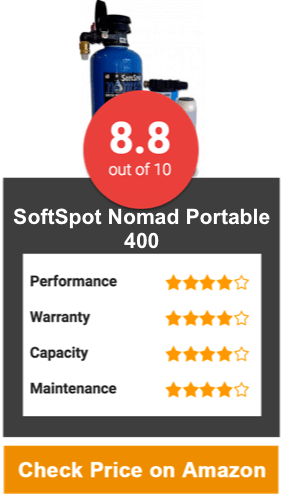 As we mentioned earlier about the unique regeneration technique used, this helps in achieving regeneration in less than 16 minutes. The operation and use of the machine are quite easy. Because of the presence of nylon handle, we can easily manage the device efficiently.
SoftSpot Nomad Portable 400 Water Softener is larger in size compare to few other products. We cannot ignore the fact that it requires Water Softener Salt which always comes in large bags.
Pros
The process of regeneration is performed in less time here
This unit can be handled easily, by a naive user
The handle provided in the unit is made of nylon
Also it comes with a good warranty feature too
Cons
Here the size of the softener unit is large, thus makes it less portable
You need to buy a specific water softener salt for running the system
Also, the weight of the unit is high in this, and thus you will need some manpower while lifting it
Many buyers have preferred this best portable water softener. And seeing many advantages of the machine, this choice should not be overlooked easily.
#6 SoftSpot Nomad Portable RV Water Softener
This best portable water softener is quite similar to the one discussed previously. The structure and the color patterns are almost same as the SoftSpot Nomad 400. It has the capacity of providing 1200 gallons of water. This machine takes very less time compared to the time taken by the previous device, for regeneration.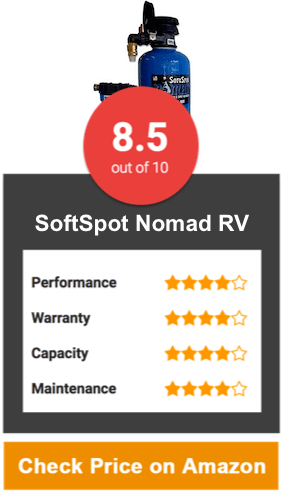 SoftSpot Nomad RV version is found to be very portable in nature. Along with portability, SoftSpot Nomad Portable RV Water Softener has nylon handles, of the military grade so makes it more durable. The regeneration time involved is 16 minutes, and again it is ready for processing. Hose fittings and the swivel settings make it more reliable.
The Capacity of SoftSpot Nomad Portable RV Water Softener can not fulfil everyone's needs. So keep in mind that small size and reduced capacity might not be enough for your family.
Pros
The unit is portable, and this helps while you require to move the unit from one place to another
This comes with almost all the machinery parts installed in it
Unit is durable in nature, thus you can use the unit for a good period of time
Process of regeneration is performed within short time period
Cons
This softener is small in size, thus the capacity is reduced for storage purpose
Also, not all the user needs are satisfied by this water softener system
If you are Car, Marine and RV enthusiasts then SoftSpot Nomad Portable RV Water Softener with 1200 gallon capacity is a perfect fit for you. You will find the easy to use feature very attractive and beneficial as well.
What is a Portable Water Softener?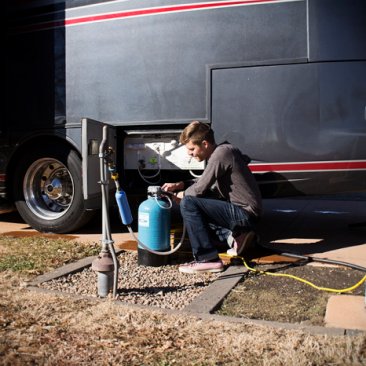 The portable water softener system is almost same as a regular water softener system, but some things like the compact in size feature and also portable ones doesn't remain fixed at homes, differentiates it from the normal softener machines.
Some of the best portable water softener systems use the table salt only instead of the water softening salt. It benefits us a lot because table salt will be easily available at home. And also to add, with just two balls of salt you can get 1100 gallons of fresh water.
Portable means which can be moved from one to another with ease. To achieve this, some features are added into the system. Because of this need, portable water softeners are designed in a compact form and also less weighted in mass. They also include comfy handles to help you in carrying the device easily.
The best water softener comes with all the machinery parts that are needed. In the machine package, you will get the outlet caps; different valves needed and also the hose setting materials.
As said before the softener systems come in small size keeping in mind the portability feature. Therefore, the quantity of the water that is being softened by the best portable water softener is less only. This machine can be useful for filtration too but from local sources.
Like the other water softeners, this softener also used resin ion-change method where the hard materials in water are replaced by sodium ions.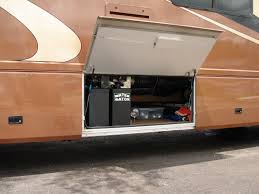 Portable water softener system is mostly preferred by the camping people. This softened water is then used for bathing and washing the utensils. This helps in reducing the hard water marks on the vehicle and also in protecting your hair texture from damage caused by hard water.
We don't need any electricity power to run this machine.The further addition of salt in the machine will help in providing hard water, but this can cause harm to the wells. They need to be refilled time-to-time.
Using this water for cleaning the cars is proved to be beneficial. This water helps in preventing the unwanted buildup that is created on the vehicles. So using the best portable water softener you can remove the buildup if any. You can also read our water softener maintenance guide for keeping it in the better way.
Some of the systems provide two purpose machines. That is, the water is treated for softening as well as the water is also filtered.
Our Fav Picks: Best Potassium Chloride Water Softener Reviews 2019
Portable Water Softener Users
Camping people
Users of recreational vehicle
The owners of the vehicle.
House renters
Save Money with following benefits of a Portable Water Softener
The portable water softener will assist in maintaining the vehicle's condition and the exterior looks, thus keeping a good value of it while selling.
If the car is maintained properly, then it will inevitably reduce the repairing costs significantly.
Also, the clothes are also in an excellent condition due to soft water from the best portable water softener. Thus, the expenditure of that is also sustained.
Soap now becomes foamier in nature. Thus, the cost of soaps is well retained.
Skin remains soft. Therefore, the spending money on creams is reduced too.
Pros of Portable Softening Systems
Small in size, therefore, fits anywhere and easily carried to different places.
Portable water softeners help in keeping the machines like your vehicles in a better condition and gives a longer life.
Your vehicle becomes spot-free totally after it is washed using the softened water.
Your skin doesn't remain dry much, and also it helps in increasing the froth formation.
It prevents the mineral buildup on the vehicles.
We believe that our article on Best Portable Water Softener Reviews – Top Picks has helped you in evaluating the water softeners more accurately. This information is from the various reviews and research we have gone through. To know more on water handling topics, visit our page WaterGadget! [kkstarratings]