Planning to give your home and deck a new clean look? If yes, then you need to get the right tools for this first. Check out the Best Water Hose Nozzles which will come as a great help to you. You will find a variety of options here, so make a selection based on the preference! Ease of use and Quality performance should be the major deciding factors for this range of products.
Our Favourites for: Best Water Hose Nozzle Reviews
If you are lazy to read the whole article, then find the Top picks with their specialty below:
Garden Hose Nozzle stands apart from all the hose nozzles we came across. It is a heavy duty nozzle, and much better than a plastic nozzle in terms of durability. You will get the flow control feature which is absent in most of the normal, basic nozzle.
Looking for a Budget Pick? Then check out the Viking 912600 Spray Nozzle! You will get high-end features like rubber grip on the handle, control knob for water, and is even flexible with all the standard garden hoses! All these features at the best reasonable price.
Other Best Picks include the Gilmour Medium Duty Cleaning Nozzle! For all the people who require doing frequent cleaning can go with this. The front end of the nozzle is threaded, so you can attach other cleaning tools on this. Even the water force can be customized on this.
To know other favorite picks, read the article and find a detailed review for each of them.
#1 Gardenite Garden Water Hose Nozzle
The main purpose of using a nozzle is to spread the water evenly in the form of water spray. Garden Hose Nozzle comes with a baked enamel finish, and it is a heavy duty one. Thus, it will last for a long time!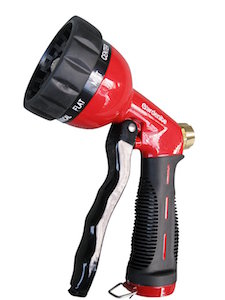 This metal watering nozzle comes with 10 different watering patterns on it. The flow control of the water is now possible with the control knob provided on this. There are many other features on this, which we may check out below.
Heavy Duty
Solid metal is used for the construction purpose and comes with the enamel coating on it. The nozzle not only looks stronger, but it also stays the same for a long time. The strong built makes it stronger than other ordinary and plastic water nozzles. With the cool enamel finish, it makes the nozzle last long as well as provides an appealing look to the nozzle.
Soft Grip 
User convenient soft grip is found on the handle part. This makes the handling easy and fun for all. Most of the water hose nozzles tire out the person quickly. It's not the same case in this. The soft and comfortable grip on the handle helps the user with using the nozzle for a long time effortlessly.
Specifications
10 Watering patterns included. So you can choose the one, suitable for the task.
Soft Rubber used on the handle gives a convenient user handling.
Baked Enamel gives a smooth finish, giving a classic look to the nozzle.
The solid metal used in the making. This gives a sturdy property and also helps with maintenance.
Flow Control 
We already mentioned that this water nozzle is heavy duty one. Because of the same reason, you will find the setting for controlling the flow of the water! There are in total 10 different spraying patterns included in here.
If you go for the low-quality nozzle, then you may find reduced pressure in the water flow. This may also lead to a slow water spray mode, which may also lead to a useless nozzle. Well, with the flow adjustments provided you can choose the appropriate option as per the need.
Uses
With the different water pressure settings, you can make use of this attachment for cleaning hard as well as soft surfaces. You can clean the concrete floors with the high-pressure setting, and even wash your pet using the same nozzle at a low pressure.
#2 Viking 912600 8-Way Heavy Duty Spray Nozzle
It is among the cheapest deals in the hose nozzle category. You may be a bit doubtful before confirming the purchase – as it is that inexpensive. But for your surprise, it is doing great in the market, and many users have given a thumbs up for this product.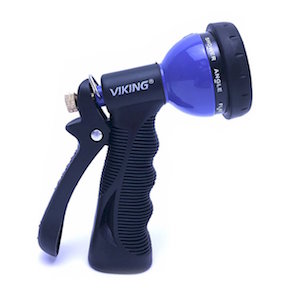 You can spray around the place with water, without actually pressing!
About Viking as a Brand
Viking is into the production of Car Care solutions since the year 1915. They are into creating and selling different car care materials for all the Car Lovers all over the world. Their customer care is supportive, and they always stand behind each product.
Flexible Enough! 
You can attach this Viking nozzle on any standard hose. If you urgently need to do some setting, then you can make use of this nozzle with the hose, and continue with your work.
Compromise on Water Pressure?
The cost factor of this spray nozzle may puzzle you about the pressure provided on it. But in fact, the nozzle has got quality water pressure considering the cost paid for this.
Also, the spray has got the force similar to that of a jet spray. You can easily clean out all the dirt from the concrete gaps, and even set appropriate water pressure depending on your purpose. Set the pressure like the shower one, which is suitable for watering and soaking the plants.
The Rubber Grip
The nozzle makes use of a non-slippery rubber, which provides a good grip property.
Build Quality
One among the benefits is that you won't ever break the nozzle by dropping out. Here the nozzle is made out of metal – which includes brass, iron, handle with paint cast made of iron.
Specifications
It can go with all the standard sized hoses.
You will get the flow control knob on this. Therefore, you can control the intensity of the water sprayed.
The product has its history dating back more than 100 years!
Excellent customer care support, and even the after-sales department is doing great.
Uses
The use of a spray nozzle depends on the number of spraying options available on it. You can use this product for watering your plants, lawn, and even for washing your car.
#3 Garden Hose Nozzle – High Pressure Technology
With the help of the High Pressure Technology, you can make use of this nozzle for a variety of works. The trigger action is on the rear side of the product, making an exception to the many nozzles available.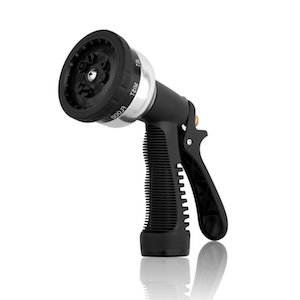 Industrial Quality 
Chrome Finishing is done on the end product here, giving it an elegant design. Along with that, the metal connector on the base comes with a rubber grommet attached to it. This provides a complete leak-proof solution.
Spraying Patterns
In total there are 8 spraying patterns included here. They are given as  – center, full, flat, mist, angle, cone, shower, and finally jet. You can do all the head adjustments smoothly using the spin and click operation. Yes, this simple yet smart hose nozzle come with all these settings on it.
Fits All 
Best Garden Hose Nozzle fits very well with all the standard hoses. So if you have got different hoses for performing different tasks, then you can try out connecting this nozzle for all. Supports the property of 'One for All.'
Specifications
A total number of 8 spraying patterns which includes – center, mist, flat, cone, full, jet, shower, and angle.
The metal base connector comes with a rubber seal. Thus providing a leak-proof hose nozzle for use.
The handle is user-friendly, with all the features like no-slip, giving a comfortable experience.
Here the product has got money back guarantee on it, in case you are not satisfied with the product.
Do a simple spin and click for selecting a particular water flow type.
Uses
You can water your garden, lawns, and even sprinkle water on grass. For cleaning hard surfaces like the floor or any vehicle, you can make use of this Best Garden Hose Nozzle. Even your pets, be it cat or dog can be washed using this nozzle.
Got a stuck water hose nozzle?
#4 Gilmour Medium Duty Metal Rear Control Cleaning Nozzle
Another classic, durable nozzle, which is tested and proven to withstand all major cleaning job. This metal-made nozzle arrives with some shapes and designs. So, you can choose the one liked by you.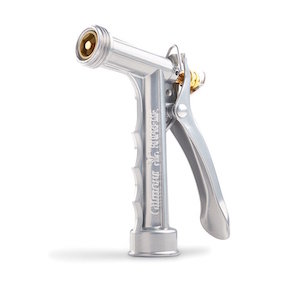 Gilmour is undoubtedly a great choice when it comes to cleaning and washing needs. They are known to provide easy to operate systems with all intuitive operations and methods. You won't feel like you are working with a machine, it is that simple and cool on your hands.
Even the design and the quality of the materials used in the making is good. This helps you to get the best kind of output from this young nozzle. This brand has been there in the industry for more than 50 years now. They rightly understand the importance of bringing some joy while those tiring cleaning sessions.
The Control is Commendable
You will be provided an immense control on this nozzle. Using this control, you can shower the water in the way you wish to, with setting the appropriate water intensity.
Flow Control now in your Hands! 
There is one control dial provided on the hose nozzle here. Using it you can set the pressure for customizing the force and the style of the water sprayed. Therefore, you can make the same machine work for different purposes.
Specifications
It will surely offer you with a smart solution for cleaning and other maintenance needs.
Easy on the operating and handling method.
The color of this cleaning nozzle is found to be silver.
There is one flow control setting, using which you can control the force of the water stream.
Here the main component used in the making is metal.
Uses
With the water stream controller, you can use this hose nozzle for both tough and soft surfaces. This increases the productivity. Another point to note here is that Gilmour brand has a habit of testing out and bringing the best innovative solution. Similarly, when it comes to purchasing products – you won't get something as good as Gilmour's.
#5 Ikris Garden Hose Nozzle 10-Pattern Metal No-Squeeze Sprayer
If you are looking for something that runs for a longer time, then you must go with this Heavy Duty Garden Hose Nozzle. It has got a strong built quality and comes with an enamel paint finish on it. They are found to be more durable other than plastic models in this product category.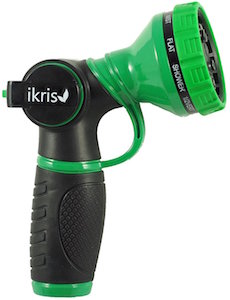 There are in total 10 watering patterns included on this sprayer so that you can choose the one suitable for your use.
Flow Control 
You just have to make use of your thumb for controlling the water flow. You can get high water flow to low one using the flow control setting. While you won't find such feature on low-quality hose nozzles.
Different Watering Patterns 
You can choose out from a set of 10 patterns particularly for watering or cleaning. For example, you will need a high power jet when you have to clean the gaps or nooks of a machine, whereas washing your pet is done using soft shower.
Easy Usage 
The thumb is the rear-facing one, that does not require any squeezing. The nozzle comes with an easy flow, makes your watering task simple and effortless. Your hands will be less tired after watering! It is easy to switch from the low soft shower to a high-velocity jet quickly.
Well, another point to note here is that – handles are comforting which makes it all less tiring on your hands.
Tips for Effective Use
Number one tip is not to over-tighten the nozzle! There are chances of jam or breaking as well. The second tip, shut the lead valve off when you are not using it. Thirdly, store the nozzle in a dry place in case you are going to store it unused for a long period.
Specifications
Total of 10 watering patterns is included on this Ikris Hose Nozzle.
This nozzle weighs about 0.72 pounds.
It is mainly made of metal and comes in the color combination of green and black.
For providing you with a comforting grip, the hose comes with a soft rubber-made handle.
Uses
We already mentioned about the ten watering techniques allowed on this. The product is heavy duty, and so you can trust on the performance and durability of it. You can opt for a soft shower or a high-speed jet spray.
#6 Crenova HN-03 Spray Water Hose Nozzle
Next, we got the Crenova water spray hose, and this is the HN-03 model. It is also termed as a car washing spray gun as it has got a high-pressure spraying feature.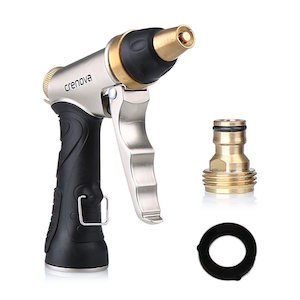 The common materials used in here include metal and brass. There are different forms of spray settings, and they come with easy transition. The handle is black in color, while the main body of the nozzle is silver in color.
Comfortable Grip on the Hose Nozzle
When we talk about the grip, the material used for the handle and the triggering matters a lot. The pistol handle is comfortable to hold, and the trigger is of the front type. All these reasons make the nozzle user-friendly to you.
Pressure Scores
This water hose comes with an output pressure of 170 to 250 psi, for an input of 50-100 psi. The output pressure is retained in the input water pressure. This shows that you get the right kind of efficiency here.
Specifications
This nozzle has got a shape of a pistol, and so they are also called Water Gun fire.
Another factor of this product – these nozzles are high on the pressure. It can work as a soft as well as a hard spray cleaner.
6 Water Spraying patterns included.
There is one hose washer made of plastic which comes pre-installed on the watering nozzle.
The triggering is forward, and so you can operate this hose nozzle smoothly.
Durable nozzle comparing to the usual plastic made hose nozzles.
Uses
There are a number of uses where you can utilize this spraying nozzle. Other than the usual vehicle cleaning and garden watering, this nozzle is perfect for cleaning washrooms, balcony, carpet, etc.
#7 Dradco Heavy Duty Brass Fireman Style Hose Nozzle
This company has revived those old-fashioned hose nozzle made of brass, which was used by your parents. No Triggers! Yes, these nozzles come with the simple twist for On or Off. Thus, you don't have to worry about the triggers as they are easily breakable too.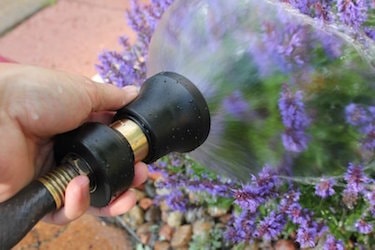 For the Handles
You will get a soft, yet long-lasting PVC made coating for the handles.
Construction
The main material used in the making is stainless steel. This gives the best strength and durable product – while it also reduces the overall weight of the spray nozzle.
Finally, you will get something that is not easily breakable and is going to last for a long time.
So, why you should buy Dradco Fireman Style Hose Nozzle?
Number one reason of all is that they make use of a high-quality material for the construction. You won't find any trace of plastic on this.
Secondly, the washer units are made of stainless steel which will last and run for a long time. You can be sure that this crucial section of the nozzle won't rust or wear out that easily.
Thirdly, the team working behind the Dradco believe in customer-satisfaction before anything. They always are in the stride to provide the best for its users.
Specifications
The brass style of construction gives a unique old touch to the hose nozzle.
No trigger for turning the product on or off. Just twist it for getting started!
Most of the internal section including the washer components are stainless-steel made. This makes the final product less heavy.
They are the believers of providing the best customer support and satisfaction.
Various spraying patterns supported, which keeps the water stream in check.
Uses
You can perform any task that matches the spraying patterns included here. Tasks, like watering your lawn, washing your cars, etc is possible using this.
#8 Crenova HN-01 Garden Hose Hand Sprayer Nozzle
We have got Crenova next on the Spray Nozzle list here, which is a Best Seller on Amazon. This comes with the unique 360° spraying support. You can spray from right to left, with adjusting the force of the flow. It can go from jet speed to that like a spray pattern.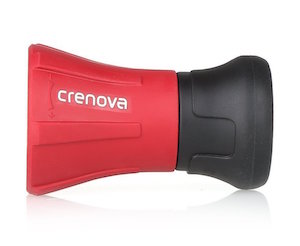 This hose nozzle comes with a Fireman's spray hose design, and this offers a comfortable design pattern. The soft rubber coating on the hose ensures that it does not harm any vehicle while washing it. Even if you accidentally drop it, there won't be much harm. Still be careful!
Crenova Sprayer Nozzle comes with a money-back guarantee. Confirm all the warranty details before proceeding with the purchase. For providing the best performance, you will find a consistent flow of water in all the directions. This is a rare feature you will find in most of the hose nozzles.
Built Quality
The nozzle we are dealing here comes with a high, and good built quality. All the fabrication work is done using high-quality components. The primary material Zinc Alloy is used in the making, and it is covered up in a rubber case. Finally giving you a well-built, and long-lasting nozzle.
Water Pressure is high
Comparing this nozzle with the other standard ones, Crenova HN-01 has got larger water pressure. So you can get the best cleaning done here. Avoid watering small, tender plants using this nozzle.
Specifications
With the increased water pressure, you can get the best cleaning done.
Adjust the flow of the water from slow to fast streaming by just rotating the base from left to right.
Construction and the built is of high-quality and comes with the rubber coating for durability.
Uses
You can make use of this sprayer nozzle for multiple uses. Some of the common scenarios include for washing cars or other vehicles, watering the plants. You can also use it for cleaning your room and even deck areas. They also come as a rescue while putting off the fire during emergencies.
#9 GRAM&I Garden Hose Nozzle – 9 Pattern Aluminum
A high-quality metal alloy is used in the making of GRAM&I Garden Hose Nozzle. They make use of die-cast and polished aluminum in the alloy, which offers you with the quality built. Such strong machines give you the right kind of trust for all the nozzle jobs you want to do.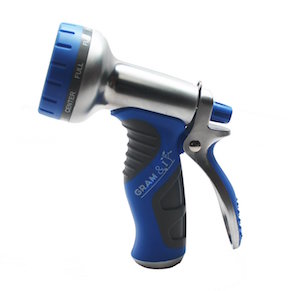 There are 9 spraying patterns on this hose nozzle, which allows the user to perform a variety of jobs. The design adopted here ensures that you don't face any leakage issue.
Spraying is done using the handle provided on the nozzle. GRAM&I comes with a slip-free and user-convenient handle. This makes the handling and operation easy.
Specifications
High-quality aluminum alloy makes the hose nozzle durable for years to come.
It's pretty multipurpose as you can use for a line of outdoor activities.
This water hose comes with a stylish design, which makes it attractive.
Rubber grip on the handle provides a user convenient experience while carrying it by hand.
Total of 9 spraying nozzles present on this hose nozzle.
Uses
Almost all the basic cleaning activities for outdoors can be performed on this. Cleaning your house, deck area, washing vehicles, and even take your pet and bathe them using this hose nozzle.
#10 Sun Joe SJI-4BHNC Ultimate Solid Brass
Well, there is nothing in the world which can beat the solid brass elements regarding outdoor maintenance. In just a single motion you can convert the jet speed spray into a gentle, slow shower! Just one motion and that is too quick!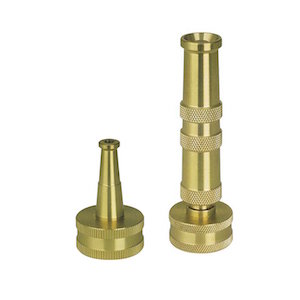 Being made of brass itself brings a lot of benefits along with the product features. This metal is durable, can resist all the damages well. They are reliable and are built to last a lifetime. With this powerhouse in hand, you can convert any ordinary garden hose into a strong pressure for performing different tasks.
Specifications
The water intensity and the spraying pattern is adjustable.
With a single motion, you can convert any powerful stream into a soft shower in less time.
The size is such that it can fit all the standard garden hoses easily.
Just one point to note – make all the connections tight to prevent any water leakage.
Uses
If you want to wash your car and even water the plants together, then you can get this Sun Joe Solid Brass for getting the best output! You can use this for handling hard as well as soft surface materials.
#11 Gonicc Professional Garden Hose Nozzle Spray Nozzle
The final product is another metal constructed nozzle, which comes with a user-convenient handle. With the rubber handle on the hose nozzle, the user can perform the work with fewer efforts.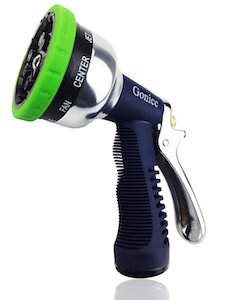 Zinc alloy is used in the construction making it a strong and unbreakable product. It is recommended to go for the metal built rather than the plastic ones. This Gonicc Professional comes with 9 watering patterns on it.
For triggering, you have to use the Rear Squeeze action. This quickly triggers the action, and also a lot of your energy is saved with this.
While you are working with this, you need to remember some points. First, do not over-tighten any of the joints. Secondly, make sure that you have turned the lead valve off while it is not in use. Thirdly, when you are not using the product store it in a dry place.
These were our recommendations for Water Hose Nozzles for 2019. Did you enjoy reading the review? Was it helpful to you? Let us know your comments about this article. Feel free to ask your doubts or any other query in the space given below. For updates, do a follow-on WaterGadget.