Want to get instant hot water for your beverages and culinary uses? An Electric Water Boiler can boost the productivity of a big kitchen and save your time while preparing delicious dishes. Secura WK63-M2 is one of the most appreciated Electric Water Boilers by the culinary artists.
Let us check out the product, its features, merits & demerits and see if it is worth it or not.
Secura Electric Water Boiler and Warmer Review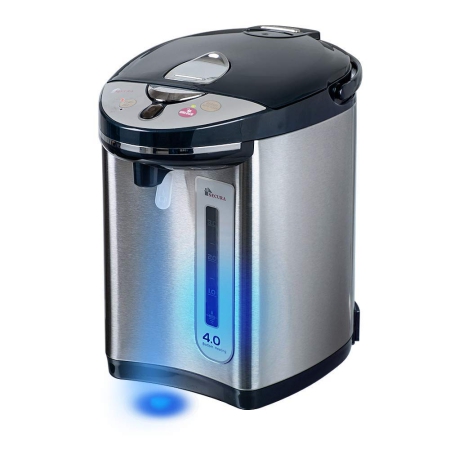 First of all, let us see what Secura offers as a brand and where it stands.
About Secura
Secura is a leading manufacturer of small appliances based in North America. The brand has been active in the industry for a long time now and its appliances have been well appreciated both online and offline. Secura is growing rapidly with its reliable and convenient products and has been adding a lot of new products in its sack at an aggressive pace.
Features of the Secura WK63-M2 Electric Water Boiler
Secura Electric Water Boilers come with a lot of great industry-standard features. Let us take a deeper look.
18/10 Stainless Steel Build
First of all, the Secura Electric Water Boiler comes with commercial-grade 18/10 stainless steel build. The product is very well designed and built using the highest quality materials. Stainless steel gives the product a sturdy finish and adds to the life of the product.
Pretty much everywhere the water may get in contact with the water boiler, Secura has used stainless steel. You can find it on the inner lid, inside the chamber, and even on the vent for vapour.
Portable Handle
A lot of machines do not come with portability feature. And believe me, it is pretty tough to lift and move a bulky machine like a baby!
Secura WK63-M2 Electric Water Boiler comes with a utility handle, using which, you can easily move your boiler from one place to another.
Hightech Water-level Gauge
There is a water level gauge on the front side of the boiler. It indicates the amount of water left in the unit. It is useful to see whether or not you need to fill in some more water or not. And the best thing is that it comes with an auto-off feature, which turns off the unit when the water level reaches the bottom.
Lid Lock
The lid comes with a lid lock system. With a unit like this that conveys hot boiling water, it is pretty important that all the possible accidents are prevented. For the exact reason, the lid lock system locks off the lid securely and prevents the top to open up if accidentally stumbled down.
360 Degree Rotating Base
For better convenience and accessibility, this Secura WK63-M2 Electric Water Boiler comes with a rotating base that can move in all direction. So whether you are on the one side of the table or other, you can easily access the machine.
Easy Sprout Trigger
In order to get some hot water out of the boiler, you just need to push the trigger below the sprout using your cup and hot water will start pouring in immediately.
Elegant Looks
This machine comes with a premium look. The stainless steel finish on the exterior looks astounding. Moreover, there is a blue coloured night light on the unit which I found pretty impressive as well.
Pros
Keeps the water hot between 80 to 98 degrees for immediate release.
4-Quart capacity makes it perfect for big families or offices.
The blue night light makes it convenient for you to dispense water without any worries.
Convenient spout.
The lid-lock system to prevent water from spilling.
Secura WK63-M2 comes with a superb finish.
Premium and sturdy 18/10 stainless steel built both inside and outside.
Moves 360 degrees.
Comes with a handle for portability.
Cons
There is no timer feature to automatically turn the thing on and off.
Our Verdict
Secura is a decent brand and its products are promising. A water boiler can ease a lot of your daily culinary processes beginning from your morning coffee to your dinner. Secura WK63-M2 hass received a lot of good words from the buyers. They back this water boiler with a 2-year warranty which shows their confidence in the product.
If you have any query regarding the product, let us know. We'll be happy to help you.
Cheers!