Here is another Secura Electric Water Boiler, Secura SWK-1701DB. However, this one has a bit of a traditional touch to it. This "Original Stainless Steel Water Boiler" has been praised by thousands of online users. And here, we are going to review if the thing stands to what they say or not!
Secura SWK-1701DB Review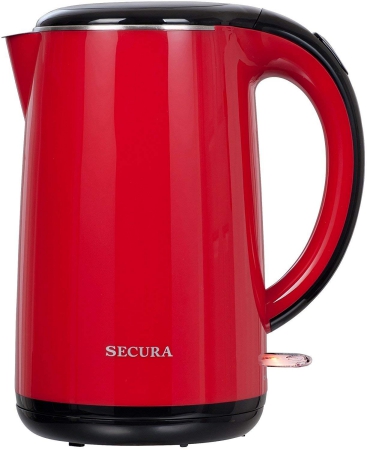 Secura SWK-1701DB is top rated water boilers on the market. It comes with a British Strix control inside that makes the water inside last hot for a long long time.
Plastic-free
The Secura Kettle is made using 18/10 stainless steel interior which makes sure that no plastic part gets in touch with your water. All the parts including the internal chamber and lid are made from steel only. Moreover, the sprout that pours water out is made from steel too.
The exterior is made from the BPA-free material.
Cool to Touch Exterior
The exterior that is made from the BPA-free material is cold to touch no matter how boiling temperature is in the inside. Also, the exterior comes in exciting colours that add to the looks of this Secura SWK-1701DB.
British Strix control
The double walls along with the British Strix Control technology keep the water hot for a long time and hence saves the energy in a long run.
Easy Cleaning
The Secura Kettle is easy to be cleaned. You just need to open up the lid and all the areas will be fairly accessible to you for cleaning.
Lid Lock
To prevent any accidents, which often happen with a hot water kettle, Secura SWK-1701DB comes with a safety lock on the lid that prevents it from spilling or dripping in case of stumbling down.
Large Capacity
The Secura hot water boiler comes with a capacity of 1.7 litre which is not too high but pretty decent for a small family and culinary use. You can certainly prepare morning coffee for the whole family using this wonderful machine.
ETL Approved
Secura SWK-1701DB is an ETL approved product, which means that it is certified safe for home use and you can easily trust the manufacturer.
6 Range of Colours
When it comes to home appliances, a lot of products come with a boring design. They may certainly provide great functionality but they are just no fun when not in use. But this is not the case with Secura Electric Water Kettle! It comes in a range of 6 beautiful colours. We especially loved the Red one which looked absolutely elegant while sitting on our kitchen top.
A bit on the Heavy Side
The Secura SWK-1701DB Stainless Steel Water Boiler is made from the best of the materials. It comes with stainless steel in the interior and BPA-free material on the exterior. Moreover, it is double walled to make sure that the liquid inside stays hot for a long time and you do not have to plug the kettle in again. As a result, it saves your electricity bucks too.
Anyway, the thing to notice here is that due to those high-quality materials, the Secura water boiler is a little bit heavier than the other products that you'll find on the market. Though it is fine for us if we are getting a quality product.
Pros
Beautiful exterior.
No plastic used at the places that get in touch with water.
18/10 stainless steel used in the interior including the lid, and spout.
Double walled.
British Strix control keeps the water hot.
Lockable Lid.
Feels cold on the outside.
Easy to clean.
Comes in 6 exciting colours that would surely look great in your kitchen.
Takes about 8 minutes to boil kettle-full of water.
Cons
It's a bit heavy than most electric kettles out there.
The power cord is a little short.
Our Verdict
Secura is a great brand and so is this product from them. Secura SWK-1701DB is indeed "the Original Stainless Steel Water Boiler". It is a little bit heavy which shows its fine quality. The product is not flimsy at all. It comes with a superb capacity too. So if you are looking for a great electric water boiler, here is your pick!
If you have any concern regarding the product, let us know. We'll surely be in touch just use the comment section below.
Cheers!