Here we are going to check out a detailed report on Waterpik Ultra Water Flosser Review.
In one of the previous articles, we had discussed the Best Water Flosser Reviews and other connected questions which people have been asking these days. Waterpik flosser has been a people's favorite for a long time now.
With many people asking about this product, we have done a detailed research on this flosser unit for you guys. To know more about this awesome flosser, keep on reading.
Waterpik Ultra Water Flosser Review
The unit we are talking about is the Waterpik Ultra Water Flosser, and this is an incredible flosser unit you will ever come across! And we have got the facts to prove the previous statement too. This flosser has been tested and approved by the American Dental Association, and it cleans effectively between the teeth and below the gum-line.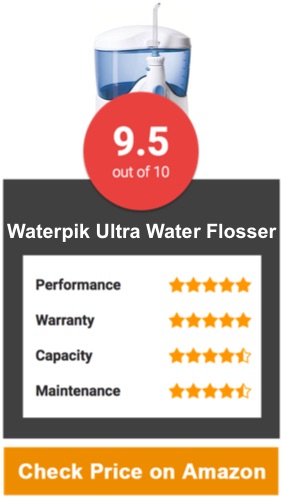 Also, the flosser can reach places where the regular brushing can't reach. The main role is played by the water pressure, and with the right pulsations, you can get the flosser do wonders for you.
Quick Overview
For those who are not in flossing on a regular basis, may find it difficult to get started with this Waterpik Ultra. But things are not the way it may seem, and using this flosser product is not that scary too!
It is a good water flosser for braces, bridges, any implant, or any other tooth condition. In total, you will find ten pressure settings on this flosser.
There are different reasons which make the people turn off from using a flosser unit, but talking about this Waterpik Ultra, this is completely a different equipment compared to other regular flossers.
This best water flosser has been clinically proven to be better than any other conventional style of flossing. The reservoir comes with a lid storage here, and the designing part is also finely done for this flosser.
Now there are different tips used as per the need of the user, and here the Waterpik Ultra comes with six different flosser tips. Two of them are the classic jet tips, one is the orthodontic tip (for users with braces), one is specifically used for removing the plaques, one is for the Pick Pocket tip (for periodontal pocket), and the final one is the toothbrush tip.
Features 
Here we would like to simply list out some of the main features of the Waterpik unit. All these aspects make the unit more popular among the people, and also the dentist's recommended. The features are given as follows:
The Waterpik Flosser unit come along with six different flosser tips, thus making it usable for different aspects.
This flosser is one among the few ADA(American Dental Association) approved systems.
It will only take a minute to complete the flossing task, and thus you could maintain a good oral health.
You will get the combination of water pressure and pulsation, for cleaner and healthy teeth and gums.
There are ten different pressure settings included with this flosser. It is suggested, to begin with, the lowest one, and then gradually increasing the pressure.
This unit is capable of removing almost 99% of the plaque formed in the mouth.
You can improve your gum health more efficiently here than any other string flosser technique.
There is one storage provided on this flosser product, where you can store your flosser tips.
You will also get a warranty of 3 years for this Waterpik Ultra.
Make sure that you use the right and matching voltage devices while dealing with the flosser unit.
Next main factor is the cost, and here the price is reasonable. Also, this product offer better performance than what it is paid for.
This product is also an ideal solution for all users who have got braces, any implants, or any other periodontal pockets. This product provides different flosser tips for each of these conditions.
Portable in design, and also makes less sound while in operation.
Your mouth will feel better, with clean and fresh teeth and gum condition.
Well, these are the different yet essential features of a standard Waterpik Ultra Water Flosser.
Specifications
We will check out some of the performance factors in this section. These factors mainly decide the overall working of the Flosser product. You can check out our article on Water Flosser vs Flossing, where we have compared both of the flossing methods in an easy way.
The pressure range includes ten different pressure settings, and they range between 10 to 100 PSI. The flow rate of the water is found to be 10 ounces per minute. The pulses created in one minute is around 1400, and it comes with six different flosser tips.
You can turn the water on/off by making use of a push button provided on this Waterpik Ultra. Here 360° angle rotation is present, for easy usage. It does not have any timer, and also any massage mode. The capacity of the reservoir is about 22 ounces.
Cold and especially Rainy days make us feel tired, and we, in fact, get lazier to take baths! Why? Because you have to perform some additional task of heating up the water. Just get one Water Heater at your place, and solve all the issues with one go!
It comes with a covering lid, which can be used for protecting the internal content from outside dust. The warranty period is three years for this Waterpik Ultra. This product is mainly delivered in a white box. Also to add, wash the system properly after your use, this will help in preventing calcification of sugar with the utensil. And this is within the water flosser.
This flosser product is an electricity-dependent, so it will run only with its presence. This is recommended to be used by only adults.
Read | How to Clean Waterpik Water Flosser?
Key Benefits 
With all the specs and the features, you must have got an idea about the various advantages present with this flosser. Still, we would like to make things more easy for you, by listing out the benefits with using this Waterpik Ultra Water Flosser. They are given as:
Portable design helps with making the system movement easy.
It does not make much sound while it is in a running state.
You could easily treat about 99% of the plaque problem using this flosser.
It is found to be a better option than the Regular Brushing and other string flossing methods.
Using this product, you could handle different conditions like the plaque, teeth with the braces on it, and also other gum issues.
With the presence of 10 different pressure settings, you could choose the best suitable for you.
You could have three times better cleaning done for the user with the braces on.
Also, you get the facility to return the flosser within 14 days of usage and claim for a full refund for the unit.
So, these are the main benefits included with using the Waterpik Ultra Water Flosser. Stop thinking much, and get this super flosser!
Happy Flossing!
This was all about the Waterpik Ultra Water Flosser Review, and hope you guys got all your queries cleared at the end. Still, if you want to ask any question then get in touch with us, and post your doubts in the comment section provided. Find more such interesting stuff on our page WaterGadget!