Keeping the dental braces clean is one of the important and essential dental hygienes. Now, if you have got braces, then it is recommended to brush your teeth after a meal. If brushing is hard, then rinse your mouth very well with water.
In case of plaque, just brushing won't do much benefit to you. You have to perform flossing in such case, and there are two types of flossing techniques. Dental Flossing will be tough with the braces, so the Water Flosser method is recommended option for all.
The flosser tip used for removing plaque is the Orthodontic tip, and it is especially designed for the people with the braces.
Best Water Flosser for Braces
The serious dental issues like Gingivitis, and Decalcification (plaque and acid production) can occur with the people who have got braces. So it is far better to prevent them, and maintain a good oral health. Isn't it?
Find the Top Best Picks in the Best Water Flosser systems here.
#1 Waterpik Aquarius Water Flosser, WP-660
This is the Best Selling unit currently, and number one recommendation from our side.
Waterpik WP-660 flosser has got all the advanced features which are present in the professional flossers. It is easy to handle, and also found to be effective in terms of working.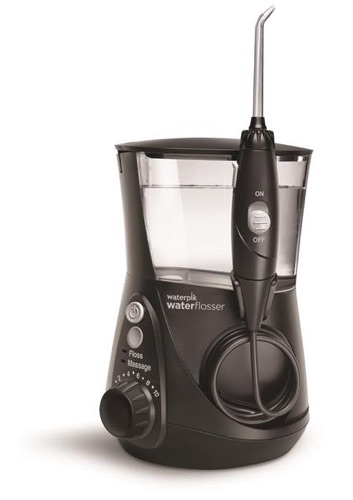 Now, getting healthier gums and clean teeth is so much simple! Only possible with this Waterpick WP-660.
Features
The main feature is indeed the compact design of the flosser, and it comes along with a switch on it. This switch helps with controlling the water flow, by turning it on or off.
There is one pressure control present here, which can be easily used making it finger-tip easy!
The working time is found to be 1 minute, and in this time you could easily complete the flossing process. So in just one minute, you can maintain clean, fresh, and good oral health. The technology adopted in this system is the Superior Oral Irrigator Technique.
In this machine, a unique combination of jet pressure and pulsations are used, to combat against the bacteria and the debris formation near the gum-line.
In total, there are 10 pressure settings available on this flosser. It comes along with 7 different flossing tips, and a 3 years limited warranty. Read our comparison article on Water Flosser vs Brushing, for a better understanding of flossing.
Pros 
It helps in effectively removing the plaque formation
For users with braces, they can get the best cleaning done using this flosser compared to the regular string floss
It includes different varieties of flosser tips, thus making the system more productive and useful
Cons
Some leakage issues were reported by a few users
Our judgement- Overall the flosser has been a favourite among all the buyers, and it is a Best Seller on Amazon. The simplicity and the functionalities offered by the unit makes it an extraordinary product. Also the Amazon ratings for this are also excellent.
Also, read: Waterpik Ultra Water Flosser Review
#2 H2ofloss Water Dental Flosser Countertop
Next recommendation is the h20floss product, and it is named as Water Dental Flosser. It is a Countertop model, and one of the key property of this device is that it is Quiet in operation.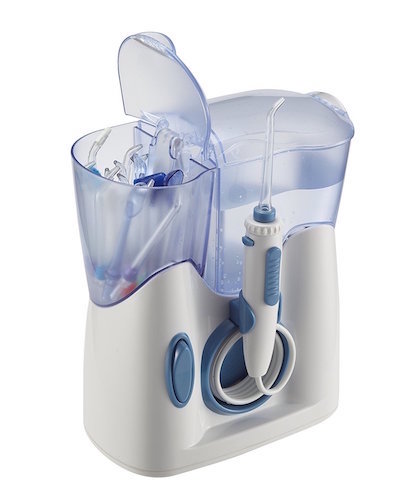 This flosser creates around 50dB of sound while it is in operation. Another point to highlight about this unit is that it comes with easy handling feature.
One part of the flosser holds the flosser tips, while the other space can be used for carrying water in it.
Features
We will begin the features list with the quiet in operation. You will find 12 multi-functional tips, which include jet tips, tongue cleaning tips, orthodontic tips, periodontal tips, and finally nasal flosser tips.
Checking the frequency present in this flosser system, it is around 1200 pulses in one minute. This frequency is found to be the most comfortable reading, as per the survey.
The water reservoir is capable of holding upto 800ml of water, and it can last for about 150 seconds.
Here the pressure setting can vary between 5 to 110 PSI. There is one Pause button provided, so that you can halt the flossing process whenever you wish to take a break.
Pros 
It comes with a nice range of pressure settings, which goes from gentle to the powerful one
The unit has not been reported for any leakage issue
This product is value for money, considering the features provided by this flosser system
Also, the customer service is found to be supportive as well
Cons
Some problem related to the material quality was reported for this unit
Our judgement- It has got more functions compared to the previous flosser described, yet some quality related issue has been found here. Checking the cost and the ratings, both of them are in your favour only. Cost of h2ofloss is customer-friendly, and it has got good ratings.
Hope this article helped with getting all the relevant info on Best Water Flosser for Braces. To conclude, Waterpick WP-660 tops the list, and has been doing great for a long time. To get regular updates from us, simply follow our page WaterGadget!