Looking out for the Best Coffee Maker with Hot Water Dispenser? This is indeed one among the coolest combination you will ever find in a system. Considering the parameters like performance, ease of handling, functionalities, affordability, etc. we have listed out our favourite picks in this category. Find them out, and serve one Hot Brew for yourself!
Our best pick for the Coffee Maker with Hot Water Dispenser is Cuisinart CHW-12 Coffee Plus system. Here the carafe size is of 12-cup and comes along with different features like pause and brew, instant coffee/tea/cocoa, auto turn on/off, and many others.
Our Picks

: Best Coffee Maker with Hot Water Dispenser

Coffee Makers are known to all, but only a few of them come with a hot water dispenser in it. So if you want your coffee maker to work as a dispenser too, then simply get one such system for your use. Below are some of the ranking units in this coffee maker with dispenser category.
#1 Best Pick: Cuisinart CHW-12 Coffee Plus Coffeemaker with Hot Water System
When your day kick starts with some delicious coffee, your day is indeed going to be great! To experience this, get the Cuisinart CHW-12 Coffee Maker for yourself and know it for yourself.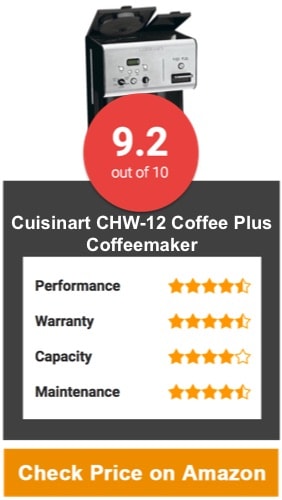 This coffee maker is a programmable unit, and it has got many features in it which includes 24 hours programmability, temperature control for the carafe system, Brew-Pause function, and many others. You can cook your favorite instant soup, cocoa, and of course Coffee on this system.
The glass carafe present here is of the 12-cups size, and they have got a drip-free spout design. Thus you could easily pour the coffee from this container into the glass.
Also to add, this system is designed by North American Electrical Standards. You won't find any backlit feature with this coffee maker.
Read | Best Water Dispenser Review
Features
You will find a 12-cup carafe, and this has got a comfortable handle in it. Here the spout is drip-free in nature. This coffee maker is completely automatic, with all the auto shut on/off feature. You will find one digital clock on this coffee maker, and this helps with keeping a check on the time quantity.
The brew pause feature provides you the facility to pause the brewing process before it has ended. While you are working with the carafe, you could set the temperature to high, low, medium. If you choose medium, then the coffee inside the carafe will retain that medium temperature.
With the Instant hot water feature, you could easily get it whenever you wish to make some soup, hot cocoa, tea, etc. This coffee maker includes one lever which has to be pulled to get the hot water dispensed from it. It also includes light indicators, which will help you in knowing when the water is rightly hot and ready to dispense.
You will find removable drip tray, which helps in making space for placing travel mugs easily. Also, the water system is a separate unit and has got a power button for its purpose. Here the water reservoir has got a capacity of 54 ounces, and this section can be operated independently as well as a coffee maker system.
Did you know about the Water Filter Pitchers? They are these compact filtering equipment which provides clean drinking water while you are on the go. It comes as a great help especially while travelling.
You could set some safety feature on the unit to prevent any hot water dispensing. There is one charcoal water filter present within the system which helps in maintaining the taste of the beverage. This coffee maker is BPA free in nature, and the product comes with a limited three years warranty.
Tips for Safety
Read the all the instructions given in the manual carefully, and then follow them accordingly. Make sure that you perform the installation in the same way as explained in it.
Pros
You can use the Brew and Pause function if you wish to pour out the coffee before the brewing finishes
Auto shut-off feature helps with controlling the coffeemaker more efficiently
You can make instant coffee, hot cocoa, soups using the hot water dispenser feature
It includes light indicator which lets the user know if the water is ready to be dispensed
Cons
Some issues related to leakages were found with this coffee maker
No other problem has been so far reported against this Cuisinart, coffee maker
This is undoubtedly the best deal you can make in the coffee maker with hot water dispenser system. Cost is reasonable, and it has been reviewed by some customers. It has received good ratings as well.
#2 Hamilton Beach 49982 Coffee Maker
Another recommendation is the Hamilton Beach unit, which has got this coffee maker + hot water dispenser running in it. The coffee maker system has got the capacity of 12 cups serving.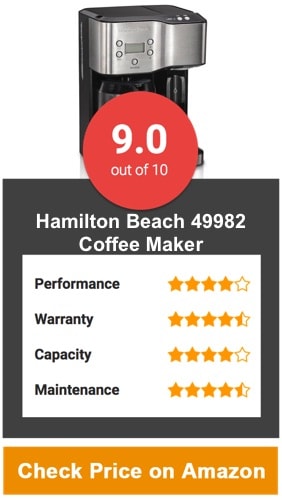 There are two separate water containers provided, so it is understood that both of them operate independently. One part of the unit is the coffee maker, and the other one is the Water Dispenser Working section.
Water with high levels of calcium and magnesium(hard water) can badly affect your home appliances. To solve this issue, you need to install one Water Softener which will soften the hard water.
You can pour out the coffee, and also make use of the dispenser system for a one-hand serving of tea, Cocoa for your family or just yourself. Here you could also program the unit to work according to your need and schedule. Here the cleaning part is also found to be easy, and also it comes with a sleek design.
Features
The designing part is good, and so it will look good on the countertop space while you are serving the guests. First talking about the 12-cup coffee maker, there is one cone filter used in this which helps in enhancing the taste of the coffee. Here you can make bold as well as regular brewing coffee.
There is one automatic pause and serve function included, and it also includes the auto shut-off feature.
For the hot dispenser system, it can operate a maximum capacity of 32 ounces!
You can perform the dispensing work easily with just one hand, and it is perfect for making tea, coffee, and your favorite cereal. This part of the system also includes the auto shut-off feature. You could set the unit 24 hours in advance, with the functions to be performed.
The automatic shut-off timer is set to 2 hours; then the system will turn off on its own after 2 hours exactly. Also, you can perform the coffee making process as well as the dispenser work simultaneously.
Pros
A large capacity of water can be set to the dispenser section, an approx of 32 ounces
The cone filter helps with removing any odd smell if present in the coffee
Brewing strength can be altered as per the user requirement
Your coffee maker and the tea department – both of them are prepared separately. So there is no chance of any mixing
Cons
Here the quality of the lid needs some improvement
No other problem found with this coffee maker so far
There are other coffee-makers by the same brand Hamilton Beach, but this is the sole unit with the hot dispenser system in it. This product is easily affordable, and so it is accessible for larger audience. Ratings are also found to be fair.
Hope you guys liked our article on Best Coffee Maker with Hot Water Dispenser, and it proved to be helpful with the selection for you. If you have got any query, then do share with us by simply commenting below. Check out more of our website source for reading similar articles.