If you are looking for a water dispenser that gives you an instant access to purified water, here is a product for you. Primo Black Countertop Water Dispenser is a simple water dispenser that comes with a Spill Proof Bottle Receptacle that can be placed on the countertop, while you have to purchase the bottles externally.
Primo Black Countertop Water Dispenser Review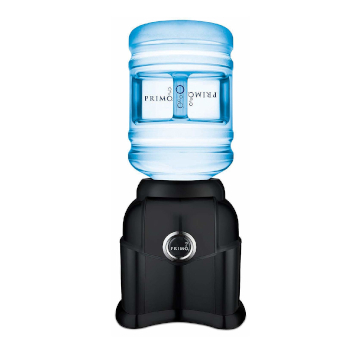 Primo Black Countertop has been on the market for a while now and recently getting our hands on the product, we decided to give you guys an unbiased review as always.
What is the Highlight?
The biggest highlight of the product is that you do not have to do the hassle of filling the dispenser with water every now and then. All you have to do is change the bottle on the top. The Primo Water is available throughout the nation in retails at an affordable price.
It is great for workplaces where you frequently need to refill the water. However, we do not recommend this product for domestic use as we find it very impractical to replace the bottles every now and then. And if you have children at home, it is an absolutely horrible idea as children, being alone in the house, would never be able to place this bulky bottle on top of the water dispenser.
Does it Filter the Water?
Unfortunately, it does not. There are no filters in Primo Black Countertop Water Dispenser that will clean or purify your water and there is a fine reason for that. The product is made to work with the pre-filled Primo Water Bottles, which is already processed, so there is no need for you to purify the water.
Assembly
Well, you do not require any assembly with this product. All you need to do is assemble the bottle on top of the water dispenser and you're done!
Does it Look Good?
Absolutely! One of the best things about Primo Black Countertop Water Dispenser is that it looks amazing. The black color of the Receptacle looks very decent on the countertop of your kitchen. It is clean and elegant at the same time.
Build of Primo Black Countertop
The build is pretty fine as well. The Receptacle is made from fine quality materials. There is no cheap plastic material found in the unit. Also, this water dispenser is dishwasher safe, you can wash it without any worry.
How about a Warranty?
Of course, this product comes with a limited warranty of 1 year, which is decent enough for you to make sure your investment pays off.
Any Issues with the Product?
Unfortunately, we did face some issues with the product. Firstly, the water flow from the Primo Black Countertop Water Dispenser is too slow. You have to wait for decades for a larger glass to get filled up.
In addition, the push button on the Receptacle is too hard for anyone to press. Getting along with the slow water flow, this is an absolute nightmare as your hand gets tired until the whole glass gets filled with water.
Pros
Comes with a 1-year warranty.
Looks elegant and compliments the house.
Primo Black Countertop Water Dispenser is easy to install.
The price is budget-friendly.
Suggestible for office use.
Cons
Has some leakage issues.
The flow rate is very low compared to the gigantic size.
The push button to pour water is too hard.
Not for household use.
Can only dispense room temperature water.
Our Verdict
Primo Black Countertop Water Dispenser is not a bad product. However, its limited use for commercial purpose and not being able to fulfill domestic requirements makes it tough for us to rate it higher. Though there are minor problems, you can surely get it for your office or workplace as it will allow you to have clean water without having to worry about refilling, just make sure to have some reserved bottles.
If you are a domestic user, a normal household, you should not invest in this room temperature water dispenser. Rather, invest in a simpler water dispenser that comes with a filter for better care of your loved ones.
We hope that we have justified our review of Primo Black Countertop Water Dispenser. And if you still have some queries, you may comment to get in touch with us. We'll make sure to answer them all.
Cheers!