With increasing industrialization, living in a metropolitan city has become a nightmare and the water quality has hit the bottom. Are you smiling right now because you have that Reverse Osmosis System installed at your house? Nevertheless, let me tell you one thing, you are not safe, at all! Believe it or not, RO does not even come anywhere close to the water distillation process in terms of purification. Know more about it as I review this amazing Megahome Water Distiller and decide for yourself.
Megahome has been in the industry of water distillers for over 22 years. With their years of expertise, they have created the most ideal product called Megahome Water Distiller which is the best water distiller available in the market for what it does, and that is purifying the water.
Problem with Reverse Osmosis Systems
Reverse Osmosis Systems consist of filters that purify the water passing through. The main problem with this is that the filters wear out over the time and your water quality degrades accordingly. Also, RO Systems waste a lot of water. Sometimes, the volume of wasted water beats the volume of purified water.
Based on the studies, there is no denying of the fact that these systems remove the essential minerals that one's body can thrive on. Moreover, there are still chances of your water being contaminated with bacteria.
Hence, I rest my case.
Megahome Water Distiller Reviews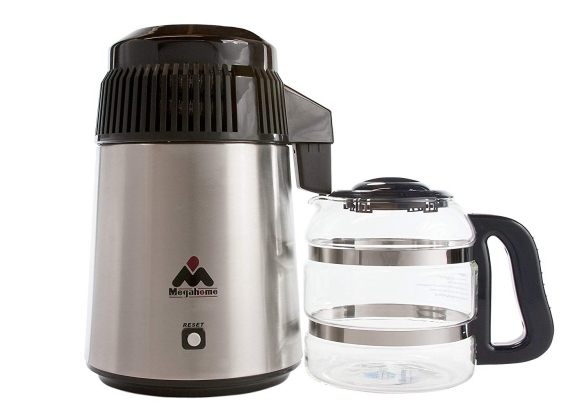 Megahome Water Distiller has been in the industry for over 22 years. And during the course of time, Megahome has made a lot of improvements along the way in order to create this ideal water distiller that purifies water at its best!
Ensures Water Quality
Megahome Water Distiller makes use of years old water distillation process. Once you plug into the power outlet, the water is boiled at the temperature of 212 degrees. At such a high-temperature bacteria and parasites get killed in the process.
Now as the boiled water steam rises, it hits the roof where this water is cooled down using a cooling system. Now as the vapour turns into water, it is collected inside a glass collector.
Catches VOC
The process does not stop here. The boiled water still has the chances of being contaminated with VOC which is nothing but impurities that have a lower boiling point than water.
To catch these VOC, the Megahome Water Distiller makes use of a charcoal filter on the nozzle that pours distilled water into the collector.
And that is how you have the purest, the most serene water you may have ever drunk.
Say No to Plastic!
The walls of the machine, both interior and exterior are made with Full 304 stainless steel. Also, the nozzle and collector are made from glass. So there is no way your water is going to get in contact with any plastic material.
While a lot of products on the market that do not care about plastic parts and contaminate the water themselves with the plastic parts as they distil the water, Megahome Water Distiller cares about its customers!
UL Listed
This Megahome Distiller is UL listed. Being UL listed means that the product satisfies all the standards for safety. Another thing I'd like to bring to your attention is that Megahome Water Distiller is the only water distiller on the market with UL listing!
1 Year Warranty
This Water Distiller from Megahome is backed by a 1-year warranty to reassure your investment.
Works Steadily
Water distilling is a calm process. Megahome Water Distiller can purify 1 gallon of water in 5.5 hours. It works steadily without much haste, however, it ensures to not to give you a chance to complain.
Our Verdict
In a modern house, especially one with kids, it is essential to find a solution to the problem of degraded water quality. Reverse Osmosis may be the most prefered method in many households due to its convenience. However, it is NOT A FOOLPROOF method!
Megahome Water Distiller ensures to give you the serene and pure water without degrading the water quality and is a huge step towards making water distilling more convenient for home users. Being the finest product on the market, You can bet your money and health on Megahome without a worry!