In this review, we are going to describe the Nakii Water Filter Pitcher. It is a reliable water filter which has an ACF filter. Along with that, it does not even require more time to filter the water. However, there are some points you need to look at before buying Nakii water filter.
About Nakii Water Filter Pitcher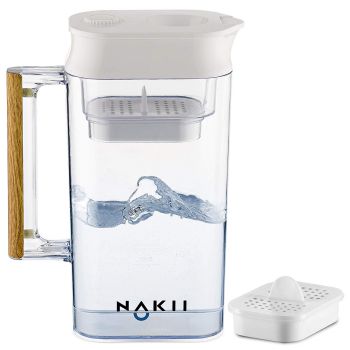 Nakii water filter is one such great value water filter pitcher that dominates most of the filter pitchers on the market. The Nakii filter is also one of the fastest water filtering pitchers and that quality sets it ahead of others.
You will learn the best part about this product is its activated carbon fiber (ACF) filter. The ACF filter contributes to cutting the filtering time.
Components of Nakii Water Filter Pitcher
Instead of reviewing the product as a whole, we have reviewed on the basis of its individual components. Additionally, its vital component is ACF filter and along with that, there are filter reservoir and pitcher.
Filter Reservoir & Pitcher
To cut the long story short, the main reason people choose this product over others due to its best reservoir. The pitcher(clean water reservoir), as well as the filter lid(filter reservoir), are made up of PDA-free plastic material. In fact, it is not only a PBA-free material but also an FDA approved food grade storage material.
These features certainly boost up the premium feel of the product along with utmost convenience. Talking of convenience, this pitcher has a tough side handle-bar which is made up a wooden cover. In fact, the very handle adds a premium feel to the product altogether.
Adding to the fact, this pitcher has a capacity of storing about 1.8 litres of water at a single stretch. Also, its fast filtering process takes about a minute to be done with all the filtering. In addition to that, the design and construction of the pitcher are way better than others.
Nakii Water Filter Pitcher is a rigid and tough pitcher which will last longer than many other pitchers. Moreover, it will withstand many impacts if you accidentally drop it down from a three-four feet height. Whereas, the filter pitchers from other prominent brands will tend to break or at least develop cracks on it.
Furthermore, the design of Nakii is a well-thought idea as it has a flat rectangular design. It will not only make the pitcher compatible of refrigerator doors but also makes handling easier. Hence, you need not worry about the storage options if you are purchasing this product.
ACF Filter
Coming to the main component of the Nakii Water Filter Pitcher i.e. the ACF filter. Actually, ACF stands for activated carbon fibre and it is a microporous layer of carbon. Also, it is a fibre structure of activated carbon hence, it receives its name as ACF.
By the way, the ACF material is a promising medium for filtering water without any exterior energy. You will get purified water by just letting the water pass through the filter via gravity. The filter will clean almost every contaminant from the water.
The ACF filter is capable of filtering chlorine, rust, mercury, other sediments, and all the contaminants. Because of the microporous structure of the filter, a thorough cleaning is possible. It will not only filter the contaminants but also eliminate bad smell and taste.
Impurities Nakii Can Eliminate
Nakii Water Filter Pitcher is capable of eliminating all the heterogeneous impurities from the water. In fact, the microstructure of ACF can clean the particles measuring about as small as microns.
Apart from that, Nakii water filter can clean chlorine, rust deposits, sediments, mercury, etc. That too in a jiffy. Generally, the filters which can filter water as good as the Nakii filter consume more time. However, the Nakii water filter will be full-filled within seconds of time.
These are the quick points about the product which will give you a brief about Nakii. Look it yourself if the apparent product matches your requirement.
Pros
Fast filtering process.
Activated carbon fibre (ACF) can clean minute contaminants from water.
Sufficient storage capacity.
Sleek design. Compatible with a refrigerator door.
Cons
Filter can wear out pretty quick if you use it rigorously.
The lid of the Nakii Water Filter Pitcher does not fit well.
The EndNote
Hence, here was all about the product from our side. Feel free to comment below in case of any query. Also, share your experience with this product or any other filter if you own one.