If you are looking for a no-nonsense water ionizer that offers you with possibly the best ionized, purified water without having to question about its integrity, here is one of our favorites, Life Ionizer MXL-5.
Life Ionizer MXL-5 Water Ionizer Review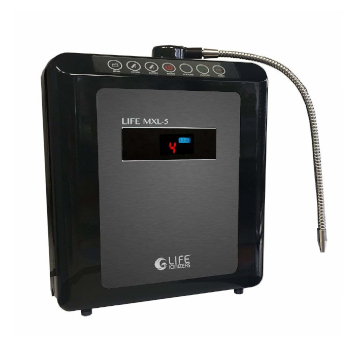 This Life Ionizer MXL-5 is one of the finest and most premium products on the market. And why is that? Let us tell you in a brief below.
This is a 2-stage process that takes place to let you have the best water with all the harmful contaminants removed and water rejuvenized with all the healthy minerals and nutrients.
Elimination of Contaminants
First of all, as all the Water Ionizers do, Life Ionizer MXL-5 makes use of its customized prefilters that removes all the harmful contaminants from the water with ease. However, it does make sure that all the healthy minerals like magnesium and calcium do not get removed as well.
These prefilters are customized by the expert team at Life Ionizer to ensure that you get the best drinking water possible.
Electrodialysis
Once done with the Stage-1, the water enters the 2nd stage and that is Electrodialysis. Here, the water gets in contact with 5 charged plates that as a result, generate healthy and great tasting water.
Here are some of the other features of Life Ionizer MXL-5 that we loved.
Quick Process
The machine works swiftly. All you need to do is press a button and with a tap, you get the purified water. No waiting for long processes.
Easy Filter Change
Life Ionizer MXL-5 is equipped with a small LED screen on the front and has a few analog buttons on the top. Here, the buttons to change filters is included as well. All you need to do is press a button and you'll be able to change them without hassle.
Ultraviolet XL
Every high-end machine comes with an Ultraviolet Sterilization System that ensures that your water is pathogens free, and so does Life Ionizer MXL-5. This feature allows you to purify the water that has not been processed by the city or has failed to do so. A must-have feature for sure.
Life MicroMembrane
Life MicroMembrane, as the name suggests, adds a life to your simple drinking water. This element actively adds antioxidants to your water. Need not to mention, antioxidant-rich water is pretty healthy for the human body just the same as stream water. It has an antioxidant potential of about Up to -500 ORP due to this feature.
This Life MicroMembrane is also functional in making the ph level of your water more balanced.
The Design
This is a countertop water ionizer, and while investing in any countertop appliance, a great design is a must. As you do not want any blemish in your house.
With Life Ionizer MXL-5, you need not worry about any of these. This water ionizer machine comes in a sleek design featured with a black color, a total eye candy! It has a fine looking LED screen on the front and a control panel on the top that allows to pour acidic, alkaline or purified water and check for the filter status.
So if you want a product that compliments your kitchen or countertop, you should surely invest in this elegant piece of technology.
Is the Price Justified?
The price of Life Ionizer MXL-5 is very steep. So for someone who wants a simple water ionizer that does its work ordinarily, this is not the one for them.
This is a product that redefines the technology level in water ionizers. It literally makes your water from ordinary to fabulous. With lifesize features like Ultraviolet Sterilization System, Life MicroMembrane, customized Prefilters, 5 platinum coated Titanium plates, and an amazing antioxidant level, the product very well justifies the price tag.
Our Verdict
Anyone who has dealt with cheap-end machines knows how they disappoint you in a long time and the need for a premium machine that works like a pro. This Life Ionizer MXL-5 water ionizer is built just for this power-performance that any premium user wishes their water ionizer to do. So without any hesitance, go ahead and invest in this water ionizer for your and your loved ones' better health.
If you have any query, comment below. We will make sure to reply you as soon as possible.
Cheers!