If you are not much of a tech person, and just want something that allows you to produce ionized water for culinary, medicinal purposes, or simply to wash off your face with the finest water possible, IntelGadgets Alkaline Water Ionizer Machine is the one that you need!
IntelGadgets Alkaline Water Ionizer Machine Review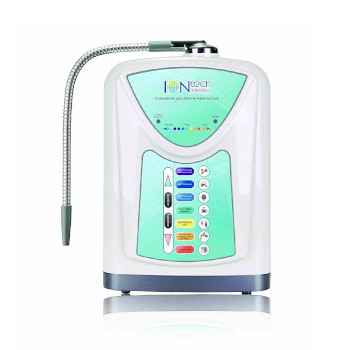 One of the best thing that we loved about this water ionizer is that it has inbuilt functions to prepare you water for whatever purpose you need it for. Whether you need to prepare some rice, or tea or say that you need to take medicine milk, this water ionizer makes you the water that you need for whatever purpose.
Guys at IntelGadgets have found out the perfect water with proper ph levels and other qualities to help you prepare the water that you need. Here are the purposes that this machine allows you to make water for:
Making foods cooking staff
Rice cooking
Tea preparation
Initial period drinking
Daily drinking
Take medicine milk
To clean your face from cosmetics
Strong acidic water
The Design of the IntelGadgets Alkaline Water Ionizer Machine
The IntelGadgets IONtech IT-580 comes in a very compact and simple design. There is no LED screen on the machine. There are analog buttons that allow you to choose the function that you need the water for. All you need to do is press a button and you're done.
The design of the control is made pretty user-friendly. One can easily find any daily purpose for they may need the water for without confusing expert controls.
How is this Machine Unique?
Let me tell you exactly why this IntelGadgets Alkaline Water Ionizer Machine, besides coming at a low price point and offering less functionality, better than most of the products out there in the market.
The biggest benefit of this machine is that you do not need to hassle much with a lot of controls. All you need to do is find the very purpose and press the according button and the machine itself using its smart technology will produce the perfect water for your use.
Other machines on the market offer a lot of functionality to the user. However, most of the domestic users are not familiar with how the ph settings and ionization even work, all they want is the right water for drinking, cooking, or any other purpose. And that is exactly what this machine does!
You just have to tap and all the intelligent work will be done by this smart fella!
Ph Range of IntelGadgets IONtech IT-580
IntelGadgets Alkaline Water Ionizer Machine has the capability of producing water in ph range 4.5 min to 11 max. This is a decent range, however, it is not the best you can get on the market. Besides, a lot of products on the market offer a little larger ph range.
However, we feel obliged to let you know that you may personally, being a domestic user, may not need a range that is so large. So everything you need from cleaning, cooking to drinking is taken care of by this little fella over here! This panel of 7 functions is all that you need.
Any Extra Feature?
Of course, this machine comes with an inbuilt activated carbon filter that takes away the impurities in the water and gives you odor-free, tasty water to drink.
Along with that, this machine is equipped with Japanese technology, which makes it temperature-resistant. Moreover, this machine is entirely toxin-free!
What about Product Reliability?
The product comes with a limited warranty of 2-years. For the budget-price that it comes with, it is a decent period to make sure that your investment. And in our opinion, this piece of Japanese technology is going to last you very long besides that warranty period.
Along with this warranty period, IntelGadgets Alkaline Water Ionizer Machine is certified with SGS Water Quality, EC, and ISO 9001:2008, So it is a quality water ionizer for the money!
The Verdict
IntelGadgets Alkaline Water Ionizer Machine is one simple piece of advanced technology. It does not get you confused with a lot of high-level controls. All you need to do is to choose one of its 7 unique water requirements of any domestic user and you'll be supplied with the perfect water with the genius Japanese Technology.
If you are still a little confused whether to go with this product or not, take our word and just go for it. Or let us know your concerns in the comment section below. We'll make sure to answer you ASAP.
Cheers!