If your water contains a lot of minerals in it, this means the water is hard. Here Best Waterboss Water Softener Reviews with Top Picks will help you in choosing the best Waterboss brand softener system for you.
By continuous use of hard water, will damage many household materials including the pipes, clothes, etc. Such softener systems treat hard water and make it more healthy and safe. Waterboss provides you some of the best water softeners to you.
We are going to see four models of the Waterboss brand. They are specifically designed for different grain handling capacities. Models are 365, 700, 950 and 900. All these models have got their benefits and purpose. Let's get started with the Waterboss Water Softener Reviews!
The Toppers

: Best Waterboss Water Softener Reviews
Using hard water has not benefited anyone in the long run. The worst affected are the electrical appliances, clothes, and many kitchen utensils. This water does not cause harm to the body. Still, it can cause good damage to the products at home. Thus it results in a significant monetary loss too.
Our Top Recommended unit is Waterboss 220. In the following section, we will list out the Waterboss Water Softener Reviews for you.
#1 Recommendation: Waterboss 220 (22000 Grains)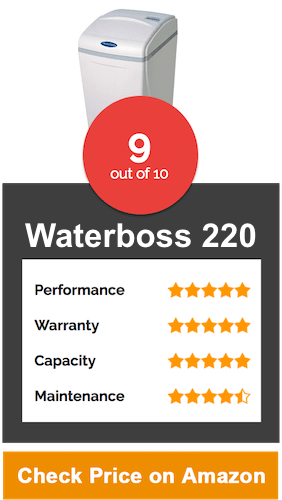 This Waterboss 220 water softener system can perform for a whole house system. It has got the ability to act upon 70 grains for one gallon of water.
Also, 10ppm of the ferrous iron and other filter dirt can be removed from the water. This can be easily used by the family of 4 members.
This machine takes less time for regeneration time. With the patented design it tries to complete regeneration process within 18 minutes. And thus you could save a lot of water with faster regeneration time.
If your unit takes more time in regeneration, then it uses more amount of water to get this job done.
The dimension of the unit is 18.8 x 14.8 x 25.8 in inches. The weight of the water softener is 73.2 pounds.
It is manufactured in the USA, and has got 3 years limited warranty on the electronic components.
22000 grains capacity is what you get to see in this softener model.
It performs softening task as well as filtering. Helps in reducing the iron contents present in the water.
It takes less time for regeneration and comes with a self-cleaning filter for the whole-house purpose.
Pros
The unit is compact in shape. Thus you can set up the machine anywhere
You will get easy installation process for this water softener
They are providing 10 years of limited warranty on the media tank, and outer cabinet
Cons
Some fitting issues found, where the top portion didn't fit with the unit
A bit pricey, so it is easily not affordable by all the consumers
Among the product limitations, we got to know that the top portion was not compatible with the unit in this. This water softener is bit pricey in nature.
Read | GE Water Softener
This is the most recommended unit by us, and it has been liked by many of its users too. Also, it has received a good response by the users. These users have also recommended others for buying this. Waterboss 220 does not make any sound while in operation.
#2 Waterboss 365 Water Softener
This system is designed for big families. This softener system can handle an approx of 37000 grains present in the solution. The Waterboss 365 has got a sleek design which helps in setting up the system even when there is the shortage of space.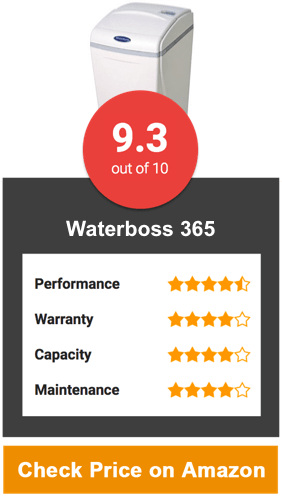 Another feature found in this; the regeneration procedure takes less time. It takes only 40 minutes and requires six pounds of salt for this. As the regeneration time is less, this system has got less water wastage in this.
The system weighs 120 pounds. The dimension of the product is given by 18.8 x 14.8 x 30.8 in inches. The flow rate found in this machine is 10 gallons per minute.
It also acts very correctly for dirt removal process. Waterboss Water Softener Review doesn't end here.
This Waterboss has got easy installation procedure, so you can easily do it by yourself. The product is a complete worth of your money. This system has got the same working method and performance as it was advertised during the marketing time.
Pros
Installation process is found to be easy right here
The unit is found to be all worth of the money invested
Processing is found to be just the way the unit is advertised by the firm
Cons
Only drawback found here is that, iron containing solution cannot be treated well
It has been reported by a user that this system is not appropriate for the water that contains a lot of iron content in it.
So if you have got a large family and want a system that is also capable of working as a whole-house system for water softening then this one is the one who should consider first.
#3 WaterBoss 700 Water Softener
They are designed mainly for providing softened water for a medium sized families. This system has the capacity of handling 70 grains for 1 gallon of water. WaterBoss 700 can also be used for iron filtering process, and can decrease them up to ten parts per million from the original quantity.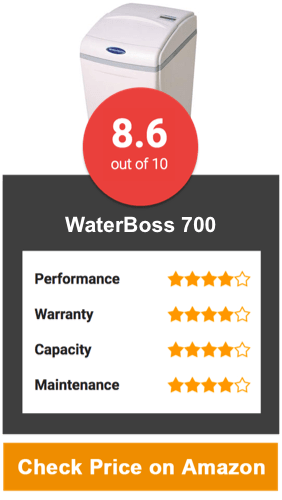 It has again got a filter which is inbuilt inside it and does the cleaning of the filter on it own. Because of this filter, you would not need the requirement of any cartridges during the time of replacement.
WaterBoss 700 has again got a filter which is inbuilt inside it and does the cleaning of the filter on it own. Because of this filter, you would not need the requirement of any cartridges during the time of replacement.
The process of regeneration make the use of 17 gallons of water and finishes this process in about 19 minutes. For this process to be undertaken, you will require only 2.8 pounds of salt content.
This product when it works in the best way possible. The product is all known for its efficient work it does while treating the water. This machine also saves a lot of water as well as salt, making it a money saver for the users.
Pros
It has got an efficient working nature
This unit is a saviour in terms of salt and water used for the processing
Cons
Some users reported about the rusting found in the system
Also some issue was found where the unit stopped while working
Some rusting problem was reported regarding this product. The screws were in the stage of rusting, instead stainless steel could have been preferred by the manufacturer. Some complained about the system getting stopped after some time of working. Waterboss reviews never go wrong!
You can also check out our: NuvoH2O reviews
Overall rating of this product has not been good. Buyers have given an average rating for this as well. But it is found to be a good deal for well water treatment.
#4 WaterBoss 900 Water Softener Review
This water softener system gives you an excellent grain handling capacity of about 36500 grains which makes it entirely suitable for large family. Best suited for hard water and with this huge capacity, it can provide us clean water with 95 grains for one gallon.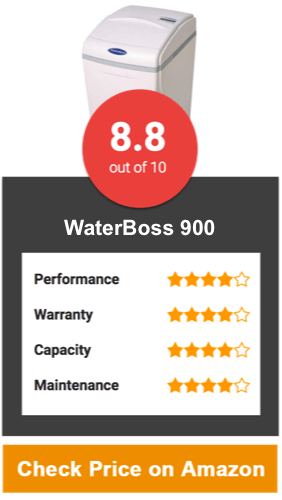 This machine can also work as an iron filter system, by reducing the quantity of iron by ten parts per million.
It also provides the best output by removing all the dirt particles and providing us with safe water. It has got a water flow which is consistent with nature.
WaterBoss Water Softener has got a good machine design, with the regeneration process being completed in an approx of 21 minutes. This system uses 15 gallons of water and salt of the quantity 3.1 pounds for the regeneration process.
This system has got less cost for maintenance purpose of this. The machine has got a sleek design so it will fit easily wherever you will like to install the system.
The system requires less amount of water for the regeneration process, making it economical to use. Waterboss Water Softener Reviews given here are all accurate information.
Pros
The system requires less maintenance to be done here
Design of the unit is a compact one, thus it can be easily set up even in small space
Less amount of water is required for running the unit
Cons
Some design issues were reported for the unit
Customer service is found to be a bit weak for this softener
The unit is a bit expensive one, compared to all the brands
The design has been found to be faulty, which resulted in leakages of the parts where water was found to be dripping off from the machine badly. The customer service is considered to be appalling with no much assistance being provided, reported by some actual users. The parts were found to be expensive compared to the other systems present in the market.
You can have a fantastic read on the Northstar Water Softener and their reviews on our website.
This one is best suited for the people staying with large family. It is also found that this one is useful for the users with well water use. This system filters out iron very efficiently. Got a larger quantity when compared with the 700 model.
#5 WaterBoss 950 Water Softener
This system is most suitable for people living in urban area. The quantity provided by this model is quite less compared to the other ones discussed in this section. It provides us with the capacity of 22100-grain handling. It can treat and soften about 36 grains for a gallon.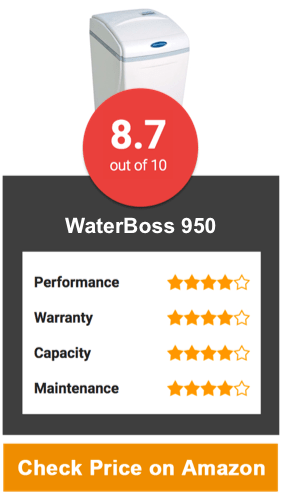 Also with the softening water feature, this system can reduce the chlorine level which helps in improving the overall quality of the water.
This system has also got an inbuilt filter which cleans itself on its own, also eliminates the requirement of changing cartridges. Our Waterboss Water Softener Reviews never go false.
The system weighs 960 pounds, and the dimension of the product is given by 15.3 x 19.8 x 31.8 inches.
The machine works very well in both the task of removing the chlorine as well as the odor from the water. This water softener can also be converted into a whole house unit easily, thus giving you the feature of extending the system in future. [source]
It requires less repairing, and so it results in less maintenance cost. You can Visit Article which we have written for getting the best maintenance done for your softener.
Pros
You can remove the chlorine content and the odor by using this softener
This can be used as a whole house unit at your place
Cons
Complaints related to the design were reported for this product
The customer care support team is found to be less cooperative
You will not get any labour warranty for this unit
Some parts of the machine were found to be faulty thus giving you incorrect results. The customer service is considered to be weak with no quality after sales service by the officials.
The system does not offer any labor warranty to you, thus for each repair we have to pay it by ourselves. We are almost done with Waterboss reviews.
This Waterboss system has not been recommended much.
We believe that you got the needed information on Best Waterboss Water Softener Reviews with Top Picks. We have done a thorough understanding of each product and mentioned the right details on the product with their genuine reviews. Till then, keep visiting our page WaterGadget!