So you say you only drink top quality water? If yes, then what is that piece of crap ionizer doing in your kitchen?! Yes, if that water ionizer ain't Air Water Life Aqua Ionizer Deluxe, I'm pretty certain that you are not drinking the best quality water at all.
Well, don't raise your eyebrows on me, all I want is for you to be healthy. So bear with me and read this review that I've patiently written for the best of you.
So what is this Air Water Life Aqua Ionizer? How does it help with your help? Know everything in the Air Water Life review below.
Air Water Life Aqua Ionizer Deluxe Review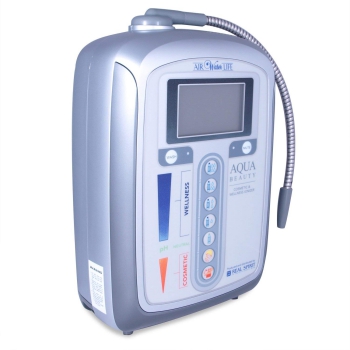 Air Water Life is an advanced-technology brand that deals with water ionizing in particular. Their products are both spectacular and high end.
What is the Procedure?
As we all know ph 7 is neither acid nor base. Anything below 7 is acidic and above 7 is base. So based on the researches and theory alkaline water that has a ph of about 8 to 9 is healthy for the human body. In a nutshell, alkaline water is something that has a higher ph level than regular water.
Air Water Life Aqua Ionizer Deluxe uses its advanced technology and turns water into alkaline. This alkaline water naturally has more antioxidants compared to acidic water.
There are 7 different setting associated with this machine. You can choose anyone according to your needs. These settings allow you to generate water that is both alkaline and ionized, only ionized, or non-ionized.
As everyone knows how active carbon can largely sanitize water and remove certain impurities, this water ionizer makes use of built-in Active Carbon Water Filter that washes out contaminants, odor, and provides you with good tasting water.
And the best thing is that this small water ionizer machine is that it can ionize a whopping 4000 liters of water.
What is the ph of Output?
Ph of output largely depends on the type of water you're feeding in your water ionizer. So based on that, Air Water Life Aqua Ionizer Deluxe can give you the output ph level ranging from 5 to 11, which is pretty decent.
How to Install One?
The installation is considerably effortless. All you need to do is install the Air Water Life Aqua Ionizer Deluxe on top of your kitchen counter. Also, you can install it under the counter with an optional kit. Once installed, attach a standard faucet and the tubings provided and you're good to go.
Reliability
Air Water Life has already made its mark on the water ionizer market with its high-quality products. The proof is a number of certifications and recognitions their water ionizers have received.
This particular product Air Water Life Aqua Ionizer Deluxe is ETL listed, which means it is proven for safety precautions. It is also FDA Food Safety approved along with a RoHS and ISO certification. All this is enough to prove that this product is reliable and safe to bet your money on.
One thing to keep in mind is that this is a water ionizer and not a water purifier. Though it does come with an active carbon filter, it hardy removes some of the toughest contaminants. So if you are looking for something like that, better go for a water purifier.
Our Verdict
So this was our review for the Air Water Life Aqua Ionizer Deluxe that claims to be one of the finest water ionizers on the market. In our opinion, the product is pretty standard and can be trusted for your health. It does have the high-tech features that are required to produce fine quality water that will help you stay healthy. So we can assure that you can put your trust into this product.
If you have any query regarding this product, let us know by commenting below. At watergadget, we are always eager to serve you for your better health.
Make sure to follow our website for more water-related information and reviews.
Cheers!